By far the most popular image on my site is James – The Mystery Man. I have been asked if it is a drawing, a painting, everything. It is a photograph.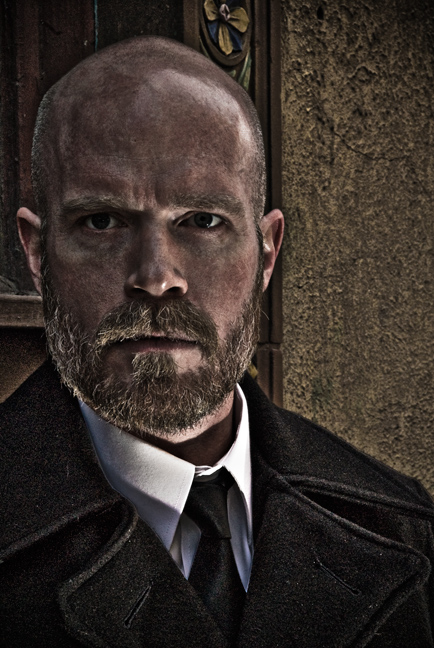 I shot Jim about a year and a half ago and we spent the better part of the day shooting. The image that first loads on the site is an image that was done in the early part of our day. We were in the shadow of a building and this allowed me to control the light completely. I used one SB800 flash unit to light the area behind him and one to light Jim. The light is about waist high and a grid spot used to light only his face.
After the image was captured I used Adobe Lightroom and Photoshop to convert the image to what you see on the site today. The technique is a variation of Scott Kelby's grunge effect. If you are a member of NAPP you can see Scott's tutorial at www.photoshopuser.com and search on Grunge. I did alter the tutorial a bit and you can see how by clicking the link below.
Below I have provided a short video on exactly how I created The James Effect. This is a step by step tutorial on how to get a similar look as the one in the James – The Mystery Man image so many have asked about.
If you like the information you see here, join my mailing list. There you will get information on discounts, appearances and other great info. I don't spam and I rarely send more than one message a week, tops! To sign up, just click here: www.michaelalbany.com/join-us/.
Until next time, Happy Shooting!
https://michaelalbany.com/wp-content/uploads/2012/05/dsc_3025-edit-edit1.jpg
648
434
Michael Albany
https://michaelalbany.com/wp-content/uploads/2017/01/Albany-Logo-v4a-300x81-300x81.png
Michael Albany
2009-11-13 13:18:09
2017-03-11 21:40:24
The James Effect