I received a message from a Facebook friend this morning telling me that they saw my Free Portraits for the Unemployed on an Italian web site. You can view that article (and a slide show) here: la Repubblica.it. Here is the English translation: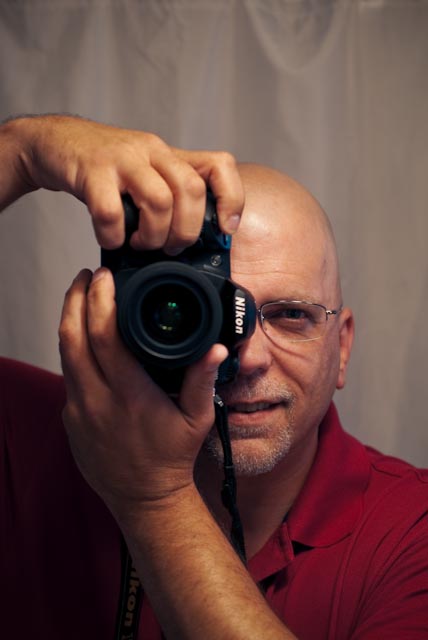 "Just a photo to beat the crisis? Maybe not, but Michael Albany (look at the website) is convinced it will help to find work. In fact, Michael, a photographer from Pennsylvania, since last summer offers free his professionalism for the unemployed. Inside the crowded job meeting Michael rented a booth and portrays those who need a nice photo to be included on the curriculum and especially on their online profile LinkedIn, the site will soon be finding work in the U.S.. Thus, people who stand in line for a portrait, first passing through the hands of a makeup artist and then in front of the goal of the photographer, without spending a penny for a service that typically costs $ 225. "I can not do anything to help people – explains Michael – I want to do it more often but I have a home. In fact, he is a victim of the crisis. The job shortage is compelled to sell their houses to go forward. Past job meetings in which he participated, on 28 January in Philadelphia, has worked continuously for five hours, photographing 170 people, without taking a break to eat or smoke a cigarette. (di PAOLO RIBICHINI). "Unfortunately I could not please everyone, and so 50 people who were lined up, went away empty-handed. In the future I hope to do this at least every week or every month" (by Paolo Ribichini). Above, Michael Albany"
I get thank you's from all over the world for offering this service to the unemployed for free. In fact, I just received a thank you from Marta Machesi of Italy while I was writing this. You are more than welcome Marta! If we meet in person, coffee is on me!
Please read more by clicking the link:
Although it is great to be globally known, or some may say even famous, the thing is that these people that I photograph are unemployed and need your help. They aren't looking for a handout or even a bail out, they are looking for a job. They just want to work, to earn a decent living, to take care of their families. They want a chance to start over.
I know how that feels. I lost my 'real job' not that long ago and it gave me an opportunity. I got the opportunity to take my part time photography business full time. It is a dream come true in some ways and a nightmare in others. I get to do what I love and what I am good at. I get to think about the one thing that gets me excited all the time. That part is great!
But the other side, the nightmare side, is the fact that businesses aren't spending as much money on photography as they used to. Everyone who has a camera thinks they can take photos that will do fine for the bride or their company or their friends. And some do, but many don't. In the mean time becoming a successful photographer is getting to be as difficult as becoming a rock star.
Is it possible? Sure it is, but what is the cost? The cost to me so far is my life savings, my house and many, many 20 hour workdays. I can honestly say that I am quickly becoming a 'famous' photographer. But guess what. Like those I photograph, I don't really care if I am famous, I just want to work. I want to do what they want to do. I want to get up in the morning and have a job to go to, in my case, a gig, a shoot, anything that puts the camera in my hand.
If you don't have a need for a photographer, that's fine. Do you need a receptionist, a medical tech, an experienced business person, a forklift operator, a driver, a data entry person, a… The list is very long. Stop saving those few Dollars, Euros, Rubels or whatever and hire somebody!
If we get people working, they will spend the money they earn, that money will go to the company that hires someone else and eventually someone will spend it on your company, service or product. If you hold on to it and you don't put out a helping hand, there will be no relief from this crisis and you think we're in a shit storm now?
Be your neighborhood's, your city's, your state's, your country's, or even our world's solution. Hire someone. And if you need a professional photographer I probably know someone that can help you out. One of them might even be me.
Until next time…
Happy Shooting!
https://michaelalbany.com/wp-content/uploads/2012/05/dsc_7574.jpg
640
428
Michael Albany
https://michaelalbany.com/wp-content/uploads/2017/01/Albany-Logo-v4a-300x81-300x81.png
Michael Albany
2010-02-24 11:59:32
2017-03-11 21:38:20
Michael Albany in Itailian is Michael Albany