Some of my regular readers may already know that I am on vacation this week. My wife and I are taking our time exploring the beautiful state of Vermont. My wife Amy has become very accustomed to stopping in the oddest places as we drive from point to point because I may see something and say, "Oh! Great shot!" and I pull over.  In fact she has even started looking for places for me.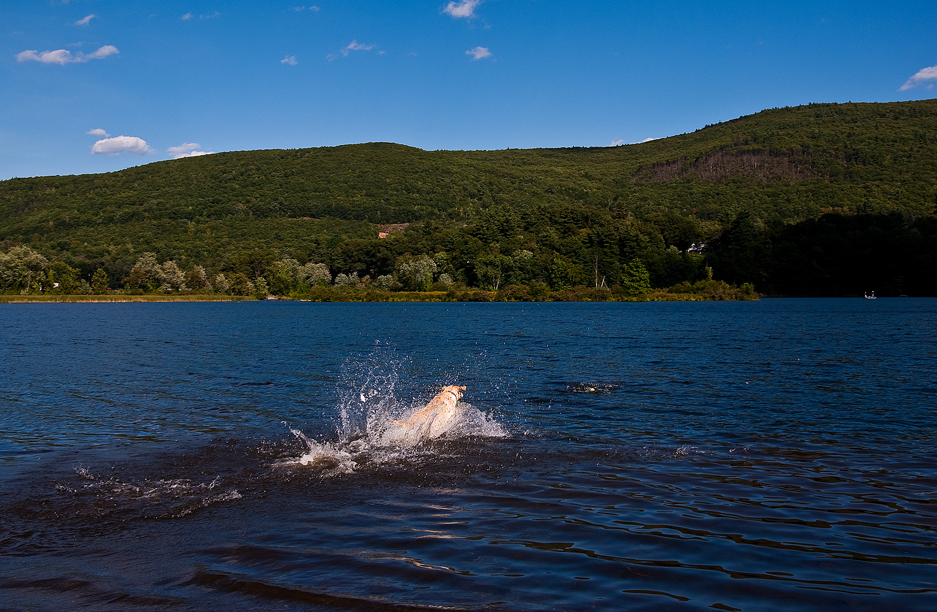 Stopping at beautiful vistas and along lakesides has its advantages too. I have met some wonderful people and made new friends too. Monday we were driving along VT 30 (I think) and I saw a beautiful lake view that I had to shoot.  Conveniently there was a boat ramp that provided a place to safely pull over.
As we were standing there and I was shooting the scenery, up comes Gary, Judy and Morgan to the water's edge.  Delightful conversation followed and we enjoyed each other's company for a bit.  While talking to Gary I learned that Morgan had retired. She is only 11! How can that be!?
Morgan retired (very) early because she was an expert. She did her job well and she worked at being the best all the time, from dawn until dusk she practiced and worked constantly. She was dedicated to her job and now it is only a hobby. The important part is, she is very happy.
This has reinforced that which I knew and believed. Follow your passion, your instincts, and commit to it completely. Even while on vacation I have a camera in my hand. Photography is a part of me. Some call me an expert. I say I am passionate, like Morgan.
Although retired, Morgan cannot stop. She has to do what is natural for her and she has to keep following her passion. Although I am not ready to retire, I definitely have to follow my passions as well. I am happiest when I am shooting. Just as Morgan is happiest when she is retrieving; well, she is a Champion Golden Retriever after all.
https://michaelalbany.com/wp-content/uploads/2012/05/morgan.jpg
612
937
Michael Albany
https://michaelalbany.com/wp-content/uploads/2017/01/Albany-Logo-v4a-300x81-300x81.png
Michael Albany
2010-09-08 11:32:19
2017-03-11 21:33:27
How To Retire At 11