I just got an email about another photographer that was arrested in Milwaukee. This is the second photographer in Milwaukee to be arrested for doing their job. You can see video and read the full story here: http://www.wisn.com/news/29677440/detail.html. OK two incidents that happen in one city, a poorly trained pocket of police, no big deal right? Wrong. It looks like it may be becoming a pattern.
Other journalists and photographers have been arrested, beaten, and even shot (with "less lethal" rounds such as beanbags and/or rubber bullets) in Oakland. This has happened in Oakland, NY, Chicago, pick a city and it has probably happened. Police are increasingly aggressive towards those with cameras. You may be thinking that well journalists try to cross police lines, they get int he way, they violate this or that when trying to get "the shot." Well perhaps but then why is a mother of 3 arrested for photographing a tourist attraction?
When did I move to a war zone?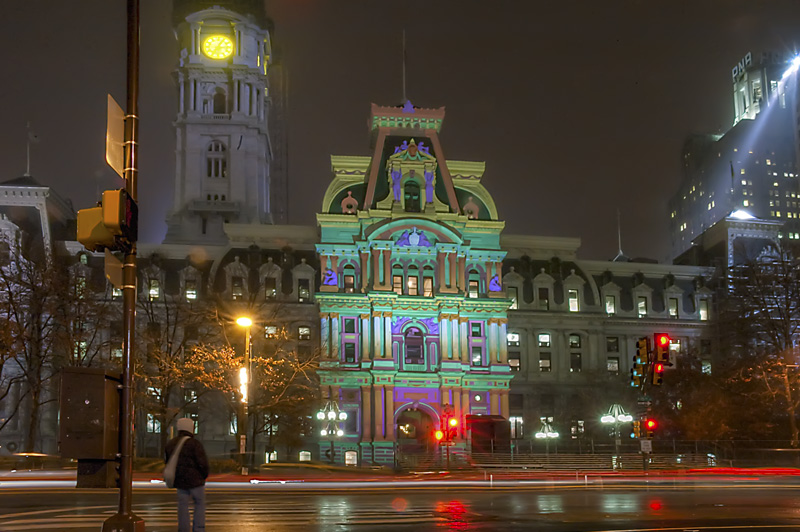 Even I have been stopped and asked "who are you shooting for?", "What are you doing with that camera?" I had a police officer ask to see all my images one when I was photographing a city skyline. At the time I was shooting from the South Street Bridge which, at the time was well traveled and known for the view of the city .
But that isn't the only time either. Back in 2005 the city of Philadelphia paid a rather large sum of money to have City Hall lit up for the holidays. They hired some European company to measure the building, create a special lighting projector and cast pastel colored lights across City Hall (left image). Hundreds of thousands of dollars spent to attract tourists and set this all up and when I go to photograph it, I am questioned by not one, not two, not even three, but five separate officers as to what and I doing and why am I photographing City Hall. Really? You do all this, you project it up there and you expect no one to photograph it? Whatever you are on I want some.
The fact is that now that there is the Occupy movement in many cities across our country our police are overreacting and in doing so they just make everyone feel a bit on edge. Whether you agree with the occupy movement or not the tactics of arresting, beating and shooting photographers is something I thought I would only see on the news or if I became a war photographer. These are things I saw early this year at the protests in Egypt, Tunisia and Libya. Then we heard newscasters, politicians and other officials screaming about how wrong it was and they need freedom of speech! Now they are just a bunch of "jobless hippies." That is far from the truth. These are working photojournalists and they are being stopped from being able to do their jobs.
What is this world coming to when we can't take an image without being threatened, arrested or worse! It is almost impossible for me to do a photo shoot outside anymore. Will it be a crime when I want to photograph the autumn leaves and all those colors? Or will I just need a special "leaf" permit?
https://michaelalbany.com/wp-content/uploads/2012/05/city_hall_20051.jpg
532
800
Michael Albany
https://michaelalbany.com/wp-content/uploads/2017/01/Albany-Logo-v4a-300x81-300x81.png
Michael Albany
2011-11-10 17:50:00
2017-03-11 21:17:35
Photographers Getting Arrested